December 02, 2020, Nighttime Operation Report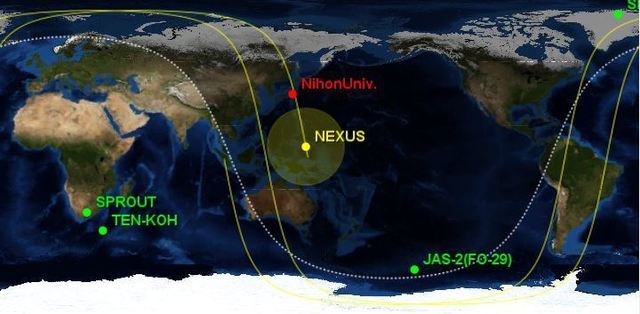 Hello, everyone. We are NEXUS development project team in Nihon University. Your receiving reports are used for confirmation of NEXUS state. Thank you for your cooperation. We will report the result of nighttime operation today.
CW custom mode
NEXUS are orbiting at CW custom mode now. CW format is following.
JS1YAVNEXUS04 (Sattime : 8words) (SW info : 2words) (Reset info : 10words) (Bat Vol : 4words) (Gyro x : 4words) (Gyro y : 4words) (Gyro z : 4words)
Total : 49words (characters)
○Operation Result
We performed nighttime operations twice.
"CW custom operation(437.075MHz)", "QPSK transmitter test operation(QPSK transmitter,π/4 shift QPSK 38k4,435.900MHz)".
・CW Operation
For CW telemetry format, please have a look at the pdf below.
http://sat.aero.cst.nihon-u.ac.jp/nexus/download/NEXUS_CW_telemetry_format_e.pdf
4th : CW:S9[dB], Bus Voltage: 4.112 [V], Angular velocity: 9.028 [deg./s]
5th : CW:S9[dB], Bus Voltage: 4.088 [V], Angular velocity: 9.573 [deg./s]
○Next Operation Schedule
1st : "CW custom operation(437.075MHz)", "Video data downlink(FSK transmitter,GMSK4k8,435.900MHz)(Size:5987328 SC_S:22, SSC:32, SP:704, ESC:32, EP:707)"
2nd : "CW custom operation(437.075MHz)", "Video data downlink(FSK transmitter,GMSK4k8,435.900MHz)(Size:5987328 SC_S:22, SSC:32, SP:768, ESC:32, EP:1023)"
2020/12/3 AOS | PE | LOS
------------------------------------------------------------------------------------------
Time(JST) 7:22:44 | 7:27:04 | 7:31:23
Azimuth 42.09 | 91.23 | 140.21
Elevation 0.00 | 8.57 | -0.02
------------------------------------------------------------------------------------------
Time(JST) 8:55:11 | 9:00:52 | 9:06:33
Azimuth 4.27 | 284.98 | 204.89
Elevation 0.01 | 47.08 | -0.02
------------------------------------------------------------------------------------------
Time(JST) 10:32:07 | 10:33:28 | 10:34:50
Azimuth 313.53 | 299.64 | 285.67
Elevation 0.01 | 0.63 | 0.00
------------------------------------------------------------------------------------------
○Latest TLE
1 43937U 19003F 20336.92460838 .00004045 00000-0 16425-3 0 9997
2 43937 97.2049 21.8018 0023494 356.7186 3.3894 15.24885979104153